Winter 2015 Newsletter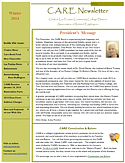 Our Winter 2015 Newsletter is in the mail to you now. It includes news from the colleges and an invitation to the upcoming CARE Annual Reunion.
Look for it in your mailbox or read it right now:
View Winter 2015 Newsletter

CARE awards $3,000 in grants to help faculty, classified, and administrators


The winners of the 2015 CARE Fund Special Projects Grant Program have been announced:

Communication Lab Signs by Veronica Martinez - $400


"Mindset" Theory & Tutor Training by Jane Wolford -$313.50


Creating Instructional Videos with Camtasia by Maritez Apigo - $84.95


Veteran's Writing Project by Jim Ott - $237.11


Difficult-to-Source Rocks & Minerals by Carol Edson - $500


Vessel Topping System by David Everett - $488.70


Creative Accounting Teaching Methods by Erick Bell - $271


Research Supplies for Plant Water Use Experiments by Michal Shuldman - $400


Women's Basketball Carts by Clarence Morgan (partial funding) - $350

Our small grant program supports special projects designed by college staff. The grants help employees do a better job of serving our students, staff, and institutions. Any area of service is eligible, and any category of employee may apply: faculty, classified, administration, full-time, or part-time, college or district office.
Get a better sense of the program by reviewing this 2015 report covering a dozen winners. Your contributions to the CARE Fund support this Grants program.



CARE Book Fund at Chabot



Because of the high cost of textbooks and the difficulty some student have had in purchasing them, CARE has established a special
Student Book Loan Fund at Chabot College. CARE members may contribute by sending a check made payble to: Chabot College.
In the notation area write "CARE Chabot Student Loan Book Fund."
Mail your check to:
President's Office - Attn: Kirti Reddy
Chabot College
2555 Hesperian Blvd., Hayward, CA 94545
CARE Member Directory



Are there retirees you wish to reach, but you lack their contact information? Would you like other CARE members to be able to reach you?
See our member directory. Learn how to join.

CARE Membership and 2016 Dues


CARE extends membership to all retirees without charge, but we depend entirely on your $10 dues payments to support our programs of activity on your behalf
If you have not already done so, please print the 2016 dues form

and make your $10 contribution now. Thanks for your support!