Spring 2015 Newsletter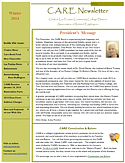 Our Spring 2015 Newsletter will be in your mailbox soon. It includes new updates and photos from the colleges, news about retirees and colleagues, notes about retirement legislation trends, and a report on the Chabot Planetarium show for CARE members.
Look for it in your mailbox or read it right now:
View Spring 2015 Newsletter

Chabot College Retiree Reception



On May 22, 2015, Chabot College President Susan Sperling hosted a reception honoring the dedication and years of service of the 2015 Chabot Retirees: Gloria Broudy, Deborah Buti, Indrani Chaudhuri, Tom Clark, Jerry Egusa, JoAnn Galliano, Kathy Kelly, Kaaren Krueg, Rosie Mogle, Irene Plunckett, Jane Vallely, and Phyllis Webb. CARE President Helen Bridge welcomed the new retirees to our organization and spoke briefly about its purpose and activities.
Photos of a few retiring honorees are shown below:
Open Enrollment


Each year, CARE members are offered the opportunity to select medical benefit plans during the District's open enrollment period. We have compiled a list of questions that may be helpful to members comparing available plans.
The first and best source of answers to all questions concerning retirement medical benefits is the Chabot-Las Positas CCD Human Resources Department Benefits staff. The plans available to a particular retiree depend on circumstances specific to that retiree; only the District Benefits Staff can provide accurate information. For most plans, District Benefits Staff can provide a plan booklet that contains many answers.
View CARE's Open Enrollment Questions

In addition, the Benefits staff recently published a list of frequently asked questions.
View Frequently Asked Questions – Retirees, published by CLPCCD

CARE Annual Reunion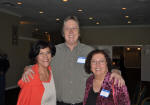 Members gathered on January 24, 2015 at the CARE Reunion and Annual Meeting to enjoy great food and the company of friends and colleagues.

See photos taken by Don Nilson, CARE Photographer>

Stars of the Winter Sky – A Chabot College Planetarium Show for CARE Members!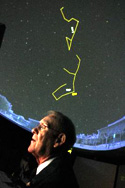 On Saturday, March 28, 2015, 32 CARE members and guests attended a special invitational showing of "Stars of the Winter Sky", arranged by Chabot Planetarium Director Scott Hildreth. The show was narrated by CARE member Dr. Billy Smith and written by Dr. Larry Toy, both faculty emeriti of Astronomy at Chabot. CARE members gained a sense of the outstanding planetarium experience offered to students every day at the College and enjoyed an opportunity so socialize while enjoying light refreshments provided by our host. Thanks to Scott and Billy for a memorable learning opportunity!
We will publish a full report in our Spring 2015 CARE Newsletter.

AB 1469 CALSTRS Funding Plan Adopted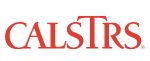 Designed to address the system's deficit funding, the new plan took effect July 1, 2014, and it provides for a sustainable long-term future course funded through gradual increases in contributions by members, employers and the state.
Read a CALSTRS overview of AB1469 provisions
Annual Benefit Adjustment. AB 1469 provides that the previously existing 2% Annual Benefit Adjustment will be guaranteed for members who retire after January 1, 2014. This guarantee serves as a constitutionally mandated "comparable offsetting advantage" in exchange for the increased member contributions required under the new law. For those who retired prior to January 1, 2014, no change will occur – the legislature may reduce or eliminate the annual increase in response to economic conditions. Nevertheless, no suggestions to adjust this benefit have been made, nor has this benefit been reduced or eliminated in the past.
Read Q&A by the CALSTRS Director on this issue
Bill Threlfall, Editor
CARE Fund Special Projects Grants Program 2015 Winners


We are pleased to announce winners of this year's CARE Fund Grants. Funding for the grants is provided in part by the CARE Fund, which is the source of our charitable activities in support of the colleges.
See the winning proposals from Chabot, Las Positas, and the District Office
CARE Book Fund at Chabot



Because of the high cost of textbooks and the difficulty some student have had in purchasing them, CARE has established a special
Student Book Loan Fund at Chabot College. CARE members may contribute by sending a check made payble to: Chabot College.
In the notation area write "CARE Chabot Student Loan Book Fund."
Mail your check to:
President's Office - Attn: Kirti Reddy
Chabot College
2555 Hesperian Blvd., Hayward, CA 94545
CARE Resources Page


Have you checked out our Resources page? It contains links to helpful online resources as well as archived stories and documents. Here are a few examples of the archived medical benefits stories you'll find there:

Open Enrollment Questions - A CARE Tool for Comparing Benefits


Retirement Benefits Provisions of New CLPCCD Faculty Contract


The Transition to Medicare Advantage Plans at Age 65 for STRS Retirees


Retiree Medical Benefits - District Position
To visit the Resources page, just select Resources from the main menu above.

Public Pension Records


Ever wonder how your retirement pension compares with others?
Transparent California provides a fascinating glimpse at public salaries and pensions, including pensions for STRS & PERS retirees in a database you can search for pension information by retiree name. In addition, by clicking a series of links on the site, you can also list STRS or PERS pensions for an entire district. For example, here are links for our district:


CLPCCD STRS Pensions 2012


CLPCCD PERS Pensions 2012

CARE Member Directory



Are there retirees you wish to reach, but you lack their contact information? Would you like other CARE members to be able to reach you?
See our member directory. Learn how to join.

CARE Membership and 2015 Dues


CARE extends membership to all retirees without charge, but we depend entirely on your $10 dues payments to support our programs of activity on your behalf
If you have not already done so, please print the 2015 dues form

and make your $10 contribution now. Thanks for your support!