Spring 2015 Newsletter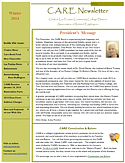 Our Spring 2015 Newsletter will be in your mailbox soon. It includes new updates and photos from the colleges, news about retirees and colleagues, notes about retirement legislation trends, and a report on the Chabot Planetarium show for CARE members.
Look for it in your mailbox or read it right now:
View Spring 2015 Newsletter

CARE announces $3,000 in grants to help faculty, classified, and administrators


The 2015 cycle of the CARE Fund Special Projects Grant Program has begun, and applications are now available.
Our small grant program supports special projects designed by college staff. The grants help employees do a better job of serving our students, staff, and institutions. Any area of service is eligible, and any category of employee may apply: faculty, classified, administration, full-time, or part-time, college or district office.
Get a better sense of the program by reviewing this 2015 report covering a dozen winners.

Application requires only a thoughtful one-page proposal. Apply now!
Learn more, including how to apply.


Barbara Mertes Honored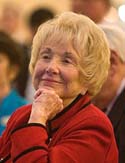 Barbara F. Mertes, Ph.D., who passed away at age 85, served our District in many key roles, including Trustee, Vice Chancellor of Institutional Planning and Facilities Development, and perhaps most notably, founder of Chabot College, Valley Campus.
In conjunction with Dr. Mertes' family, the District held well-attended celebration of Dr. Mertes' life at Las Positas College, in the Barbara F. Mertes Center for the Arts Main Theater, on Saturday, September 26, 2015.
In addition, Chancellor Jannett Jackson has extended her personal
invitation for CARE members to join a planned "Gathering of Friends"
in honor of of Dr. Barbara Mertes:
"In honor of Dr. Barbara Mertes, and to allow another opportunity for our District family to share our memories and stories about our friendship with Dr. Mertes, the Board will be hosting, and would like to invite you to, a reception prior to their regularly scheduled Board meeting on October 20, 2015. You will also be welcomed, if you wish to, to say a few words about Dr. Mertes."

Date: Tuesday, October 20, 2015
Las Positas College (time & location to be announced by the Chancellor)
3000 Campus Hill Dr, Livermore, CA 94551


Chabot College Retiree Reception



On May 22, 2015, Chabot College President Susan Sperling hosted a reception honoring the dedication and years of service of the 2015 Chabot Retirees: Gloria Broudy, Deborah Buti, Indrani Chaudhuri, Tom Clark, Jerry Egusa, JoAnn Galliano, Kathy Kelly, Kaaren Krueg, Rosie Mogle, Irene Plunckett, Jane Vallely, and Phyllis Webb. CARE President Helen Bridge welcomed the new retirees to our organization and spoke briefly about its purpose and activities.
Photos of a few retiring honorees are shown below:
CARE Book Fund at Chabot



Because of the high cost of textbooks and the difficulty some student have had in purchasing them, CARE has established a special
Student Book Loan Fund at Chabot College. CARE members may contribute by sending a check made payble to: Chabot College.
In the notation area write "CARE Chabot Student Loan Book Fund."
Mail your check to:
President's Office - Attn: Kirti Reddy
Chabot College
2555 Hesperian Blvd., Hayward, CA 94545
CARE Member Directory



Are there retirees you wish to reach, but you lack their contact information? Would you like other CARE members to be able to reach you?
See our member directory. Learn how to join.

CARE Membership and 2015 Dues


CARE extends membership to all retirees without charge, but we depend entirely on your $10 dues payments to support our programs of activity on your behalf
If you have not already done so, please print the 2015 dues form

and make your $10 contribution now. Thanks for your support!