Winter 2012 Newsletter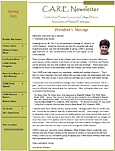 Our Winter 2012 Newsletter is here!
Read stories about CARE Grant winners, AB340, news from Las Positas and Chabot, retired colleagues' activities, and more. Print forms to reserve your spot at the reunion and pay your 2013 dues.
View Newsletter

Open Enrollment Questions - A CARE Tool for Comparing Benefits


by Bill Threlfall
May 2013
Each year, CARE members are offered the opportunity to select medical benefit plans during the District's open enrollment period. We have compiled a list of questions that may be helpful to members comparing available plans.
The first and best source of answers to all questions concerning retirement medical benefits is the Chabot-Las Positas CCD Human Resources Department Benefits staff. The plans available to a particular retiree depend on circumstances specific to that retiree; only the District Benefits Staff can provide accurate information. For most plans, District Benefits Staff can provide a plan booklet that contains many answers.
View Open Enrollment Questions

Interview with Dr. Reed Buffington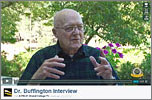 Chabot College recently posted a 17 minute video interview with Dr. Reed L. Buffington, the first President of Chabot College, who recalls the founding and development of Chabot and Las Positas.
CARE Annual Reunion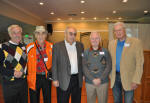 Pictures of the 2013 CARE Reunion and Annual Meeting are now available.

View pictures

CARE Fund Special Projects Grants Program for 2013-2014


We are proud to announce plans to award a total $3,000 in 2013-2014 grants at Chabot and Las Positas College! Funding for the grants is provided in part by the CARE Fund, which is the source of our charitable activities in support of the colleges.
Learn more about the grants program
Learn more about the CARE Fund and how you can contribute

CARE Resources Page


Have you checked out our Resources page? It contains links to helpful online resources as well as archived stories and documents. Here are a few examples of the archived medical benefits stories you'll find there:

Open Enrollment Questions - A CARE Tool for Comparing Benefits


Retirement Benefits Provisions of New CLPCCD Faculty Contract


The Transition to Medicare Advantage Plans at Age 65 for STRS Retirees


Retiree Medical Benefits - District Position
To visit the Resources page, just select Resources from the main menu above.


New Contributions to CARE's History Project


Visit the History Project Table of Contents to view a new piece by Helen Bridge.
CARE Member Directory



Are there retirees you wish to reach, but you lack their contact information? Would you like other CARE members to be able to reach you?
See our member directory. Learn how to join.

CARE Membership and 2013 Dues


CARE extends membership to all retirees without charge, but we depend entirely on your $10 dues payments to support our programs of activity on your behalf
If you have not already done so, please print the 2013 dues form

and make your $10 contribution now. Thanks for your support!

Chabot Board of Trustees Report and Hotsheet


The latest issue of the Hotsheet and Board of Trustees Report


is now available here >

We aim to make a current copy of the Report and Hotsheet available at all times on our Resources page under "Chabot College".